With good friends … and good food on the board …
we may well ask, when shall we live if not now? M.F.K. Fisher, The Art of Eating
Every weekend, on Sundays, I used to go to my grandfather's house where the whole family gathers to have lunch, drink and dance. My grandfather was a very welcoming man and he always wanted to invite friends and visitors that are coming from different places to share the food with us. For him these moments of sharing and meeting were the most important moments of life. I never questioned this until after his death, when I lost such moments.
These few hours between 1pm and 5pm in the afternoon were his escape. It was a sacred ritual with his family, guests and friends. The table would be full of people and everyone would raise their glasses for health, happiness, pleasure, love, and friendship. Omar Rajeh
Four choreographers gather to eat together.
They come from different continents, cultures, countries: Lebanon, Togo, Japan, Belgium. They have different experiences, routes, artistic paths. What unites them is their work.
They talk, drink, laugh, dance and, eat together.
The simplicity of this meeting is a starting point to a more complexchoreographic and conceptual performance structure.
'Beytna' is a simple invitation to the home of the other; health, happiness, pleasure, compassion and friendship. It is an invitation to the artist's profession and choreographic construction as much as it is to the forms and situations of the past.
"Traditional values anchor everyday life, and top among these is eating together".
Food is essential for our being and it is the basic need for existence. However, food is more than survival, it engages our senses and addresses our social and cultural values. This primitive need is what brings people together or take them away from each other.
The food we eat, how we eat, the communal table, and sharing of food is a reflection of our traditional and cultural values as much as it is a reflection of contemporary life. It poses a strong connection between the traditions of the past and the way we live
today.
In Beytna the table of food highlights the cultural and social background of each artist around the table, Omar Rajeh, Anani Sanouvi, Hiroaki Umeda, Koen Augustijnen, who are accompanied by Palestinian musicians of Trio Joubran. It serves to question the contemporary dance forms of today in relationship to the traditional dance structures. How much the contemporary forms of today relate to the traditional forms of each dancer/choreographer.
This gathering seems to reflect the cultural mosaic of Lebanon and other countries across the World and to highlight the richness and diversity of our artistic and cultural differences. Because the differences, and not the similarities, are what bring artists together.
Omar Rajeh, choreographer, dancer, and artistic director of Maqamat Dance Theatre. His work, intense and powerful, has made an essential and significant contribution to the establishment of a contemporary dance scene in Lebanon. He established his company in Beirut in 2002 and since then he has toured throughout the Arab World and Europe, in addition to Canada and Korea. His artistic work deals with social and political issues inspired by the everyday life of the city of Beirut where he lives. It is very significant in his work that he is continuously questioning the individual presence and the physicality of 'the body' within a socio-political and human context. He is the founder of BIPOD, one of the most important platforms for contemporary dance in the Arab World. Rajeh is also the co-founder of Masahat Dance Network, a regional dance network in Lebanon, Syria, Jordan, & Palestine, founder of Leymoun – Arab Dance Platform, and of Takween – intensive training project for Lebanese and Arab young dancers in partnership with Sasha Waltz and Guests. Recently he has started a significant and important project, Maqamat Beit El Raqs, a dance space for training, dance presentations and residencies situated in the Chouf Mountains of Lebanon.
Togolese dancer and choreographer Anani Sanouvi has been hailed for his ability to assimilate different traditions into his own dynamic style. He is Dance Laureate of the prestigious Rolex Mentor and Protégé Initiative and has worked and collaborated with artists such as Peter Sellars and Anne Teresa De Keersmaker. Recently Sanouvi participated in the event An Unique Gathering that brought together seven young talents for an exchange with William Kentridge, Peter Sellars and Wole Soyinka in Cape Town.
"My heart is deeply in all that concerns the knowledge of traditional elders from Africa and abroad," he says. This sense of heritage permeates his art and forms his sense of responsibility as an artist, leading him to develop a method for teaching and making contemporary art – called AgamaFo – that is rooted in the knowledge and spiritual practice of animism. In this context, he has been giving lectures and teaching internationally. In Amsterdam, where he lives, he founded in 2008 the Maahhoum company, but in parallel he has maintained relations with his country of origin where he created an association for the development of cultural projects, and an art workshop – The Tools of the Wisdom – for the study, preservation and enhancement of the traditions. His works have been performed in Europe, USA, Middle East and Africa.
Koen Augustijnen has been working closely with Les Ballets C de la B since 1991, initially as a dancer in performances staged by Alain Platel. From 1997 till 2013 he was one of the dance company's house choreographers. His main training and work experience has been firmly rooted in his staging of performances as a member of Les Ballets C de la B.
Bâche (2004) brought him an international breakthrough, followed by Import/Export (2006), Ashes (2009) and Au-delà (2012). Since 2013 he's working freelance and directed in Australia a dance solo for DalisiaPigram of the Marrugeku Company called Gudirr Gudirr. In September 2013 he created Badke, a piece for ten Palestinian dancers, produced by KVS, Les Ballets C de la B and A.M. Qattan Foundation.
Apart from Les Ballets C de la B he sometimes works as a choreographer, joining forces with dEUS or working with Ivo Van Hove (Toneelgroep Amsterdam), Arne Sierens (compagnie Cecilia) and Stalker Theatre Company to name but a few.
Hiroaki Umeda is a choreographer and a multidisciplinary artist now recognized as one of the leading figures of the Japanese avant-garde art scene. Since the launch of his company S20, his subtle yet violent dance pieces have toured around the world to audience and critical acclaim. His work is acknowledged for the highly holistic artistic methodology with strong digital back ground, which considers not only physical elements as dance, but also optical, sonal, sensorial and, above all, spatiotemporal components as part of the choreography.
His creations have been presented in major festivals and theatres worldwide such as Festival d'Automne (Paris), Pompidou Centre (Paris), Biennale de la Danse (Lyon), Kunstenfestivaldesarts (Brussel), Tanz im August (Berlin), Tanzquartier (Vienna), NY Live Art (New York), Sydney Opera House (Sydney) etc. In 2009, he commenced his ten-year choreographic project 'Superkinesis' and started working with dancers of distinct physical backgrounds such as contemporary dancers, hip-hop dancers, classical ballet dancers and Asian traditional dancers. Since 2010, he has been working on series of installations, which mainly focus on optical illusion and physical immersion. His string of works combining visual and physical sensation has earned him Prix Ars Electronica, Honorary Mention.
Le Trio Joubran, three brothers descending from a family of « Oud » makers and players since four generations… the great grand-father, the grand-father, the father and now, Samir, Wissam and Adnan have transformed this instrument into a passion, a skill, a life… Their mastery of « Oud » is singular and so are the harmony and the synchronization that they perform all over the world, before different publics united by the Trio's authenticity and excellence.
The percussion is performed by the master Youssef Hbeisch who enriches the Trio's compositions by enchanting rhythms and notes.
choreographed by Koen Augustijnen, Omar Rajeh, Anani Sanouvi, Hiroaki Umeda
performed by Koen Augustijnen, May Bou Matar, Adnan Joubran, Samir Joubran, Wissam Joubran, Youssef N. M. Hbaisch, Omar Rajeh, Anani Sanouvi, Hiroaki Umeda
music composition: Le Trio Joubran
percussion: Youssef N. M. Hbaisch
voice: Nohad Rajeh
scenography and costumes: Mia Habis
tailor: Georges Jamo
technical director: Ricardo Armando Clementi
lighting design: Victor Duran Manzano
graphic design and video animation: Joe Elias/Nimslabs
concept and direction: Omar Rajeh
production: Maqamat Beit El Raqs
co-production: BIPOD-Beirut International Platform of Dance, Tanzquartier Wien, Les Théâtres de la Ville de Luxembourg, CCN de La Rochelle / Cie Accrorap-Direction Kader Attou, Theater im Pfalzbau-Ludwigshaven, Fondazione Fabbrica Europa
with the support of Institut français Italia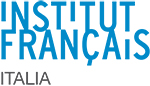 and Fondazione Nuovi Mecenati
[photo: Tony Elieh]