in collaboration with Florence Queer Festival
In 1997, Australian Alex Murray-Leslie and American Melissa Logan met at the Munich Academy of Fine Arts and formed Chicks on Speed.
Although they would achieve fame as an electroclash band, Chicks on Speed started as a multidisciplinary art project, applying a punk-inspired DIY ethic to performance art, collage graphics, and fashion (they created their own stage costumes).
Chicks on Speed have enjoyed an extraordinary career, releasing records (including hits like 'Glamour Girl' and 'We Don't Play Guitars'), doing gigs, and making exhibitions. The group has expanded and contracted, engaging all manner of collaborators.
In recent years, Chicks on Speed have created 'object instruments', like the e-shoe (the first wireless high-heeled shoe guitar), cigar-box synthesisers, 'super suits' and tapestries with sensors that trigger audio/video samples, and a haute-couture hat amplifier.
Chicks on Speed have joyously cracked open the mold, gaining a cult following with their free and rhizomatic take on creativity in the lineage of Dada's Cabaret Voltaire. There's no distinction between music, visual art, fashion, poetry, politics. In a world where the music industry is almost fully-corporatized and the art market dominated by brand names, their approach feels particularly fresh – just as did back in the late 1990s, when they started to tinker with sound and performance after meeting in Munich.
FOLLOWING
I'M NOT A D-JAY
a live set by SILVIA CALDERONI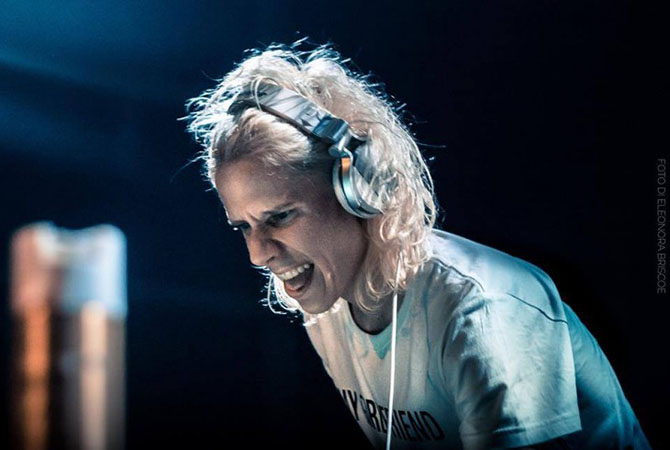 Silvia Calderoni is an actress, performer, d-jay, who has always cultivated a passion for djing.
Her evenings are unpredictable: a mash-up between electronics, electropunk, new wave and trash. She has performed in many different situations: large squares, clubs, gala dinners, public baths, poolside aperitifs, theatres, campers, and she played the role of d-jay Kaspar Hauser in the film of the same name, alongside Vincent Gallo and Claudia Gerini.
She performed, among others, at the Public Theater / Festival Under The Radar in New York, Rotterdam Film Festival, Milano Film Festival, MACRO in Rome, Torino Music Festival, Moscow Film School, Maxim Gorki Theater in Berlin.