New stage of the CRISOL – creative processes project which, after the one in India last February, moves to Norway.
Three young Italian artists, the dancers Valerio Palladino and Elisa Sbaragli and the video maker Rebecca Lena, together with the dancer Sigrid Marie Kittelsaa Vesaas and the musician Johann Loiseau, were in residency in Oslo.
Accompanied by choreographers and dancers Heine Avdal (Norway) and Yukiko Shinozaki (Japan) as tutors, they worked on elsewhere & elsewhen, focusing on the theme of landscape, both in the meaning of our society – and the urgent social, economic and ecological issues we are confronted with today – and in the meaning of the concrete locations that can be conventional or unexpected places.
The title of the project also refers to the reflection on our own "state of the art", our own artistic trajectories and choreographic practice. How do we see the dance landscape/art landscape in relation to public space?
(Self) reflection is an important part of artistic work in order to understand the impact of performing arts in a public space.
How can we compare or differentiate from other art forms present in public space?
The CRISOL – creative processes project, funded under the Boarding Pass Plus 2022/2023/2024 programme promoted by the Ministry of Culture, was born with the idea of redesigning the approach to contemporary performing arts, and to dance in particular, creating opportunities for meeting and shared creation between Italian and international artists, encouraging the exchange of practices and offering, through processes of transnational co-creation, opportunities for the internationalization of young Italian artists.
with the support of Italian Cultural Institute Oslo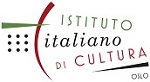 Photogallery
[photo: Rebecca Lena]