A residency of the choreographers and performers Greta Francolini and Giuseppe Vincent Giampino at PARC from 13 to 18 January.
The intent of this collaboration is to create a mix of the performative and creative languages of the two artists for the implementation of a co-creation.
The creative path will develop from the practical and theoretical bases of the works already completed by Giuseppe Vincent Giampino by re-opening their bodily processes and practices, which could become a possible basis for a comparison with the dancemaker Greta Francolini, who will propose her work as a catalyst of contents and meeting practices.
Greta Francolini is a dancer and choreographer. In 2016 she was with Annamaria Ajmone at the "Biennale College" in Venice. In 2017 she was selected for "Half a House" within the European project "N.O.W. New Open Working Process for the performing arts" presented at the Fabbrica Europa festival, and for "ISA Inteatro Summer Academy", a training project at Villa Nappi in Polverigi. In 2018 she was selected by "Anghiari Dance Hub" for a 3-month residency programme. In June 2018 she worked as a dancer in Cristina Kristal Rizzo's Prélude in Hamburg.
As an author she created Solo Sapore, selected for "Nuove Traiettorie XL 2017"; Ritornello, finalist project for "DNAppunti Coreografici 2017" and selected for "XL Showcase of the young author's dance 2018"; Annunciazione, co-produced by Anghiari Dance Hub and Cab 008 and selected for "XL Vetrina della giovane danza d'autore 2019".
Her works have been presented in festivals such as Fabbrica Europa (Florence), Inteatro (Polverigi), Ammutinamenti (Ravenna), Interplay (Turin), Dominio Pubblico (Rome), Presente Futuro (Palermo), Find (Cagliari).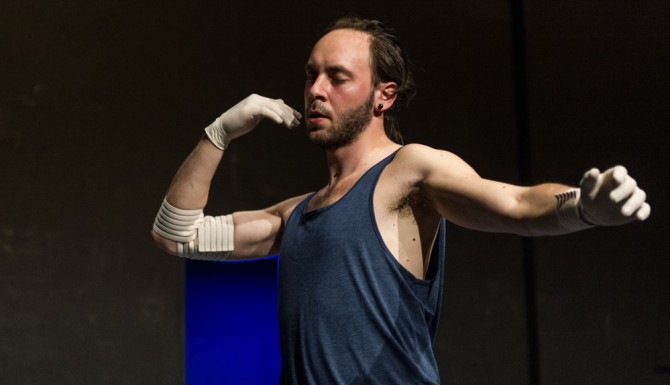 Giuseppe Vincent Giampino holds a bachelor's degree in choreography from S.N.D.O. – School for New Dance Development – Amsterdam, where he met and collaborated with international choreographers and dramaturges such as Mårten Spångberg, Benoît Lachambre, Bruno Listopad, Keren Levi, Trajal Harrel and participated in festivals and exhibitions including Spring Festival Utrecht, Ruhr Triennale, Something Raw Festival.
Maker and performer, currently his work is focussed in the redefinition of the organization of a body and its generative possibilities in relation to the compositional modalities of dance, visual arts, cinema and the pop culture
In 2018 his creation Extended symmetry was selected by Network Anticorpi XL for the Vetrina della giovane danza d'autore (Italian showcase for young dance) in Ravenna.
Since 2019 he is supported by TIR Danza.
[Greta Francolini: photo by Andrea Macchia; Giuseppe Vincent Giampino: photo by Nellie de Boer.]