The international cooperation project Juntarte. La cadena creativa que hace la escena inclusiva perfectly fits the XXXIX Fabbrica Europa edition, aiming to pursue the project started in Cuba in 2021 and to become an hypothesis for the future. In this very strange daily irreality where our bodies are living, it becomes crucial, more than ever, to imagine ourselves in the future and to try watching it as a possible invention of a new intimacy.
Ten dancers and choreographers of the contemporary Cuban scene are invited to cross and live the florentine Festival, in order to share visions and poetic strategies, to build an environment of dialogue with the local artistic community and finally, to broader to the audience's look the processes and the current transformations of a new scene.
Between October and November 2021 the Fondazione Fabbrica Europa, in collaboration with COSPE and the Cuban organisations of JUNTARTE, realised talleres (workshops) in La Habana which comprehended more than 50 young dancers, actors and performers in a training and creation workshop under the artistic and pedagogical guidance of the director Andrés Morte Terés, followed by the choreographer Cristina Kristal Rizzo, in addition with the director and theatrical authoress Manuela Cherubini and Elena De Carolis, actress, director and acting teacher.
Ten artists have been selected from this shared path, with three choreographic projects for this final step in Florence, curated by Cristina Kristal Rizzo.
---
THE CONCEPT
TO THE ROOTS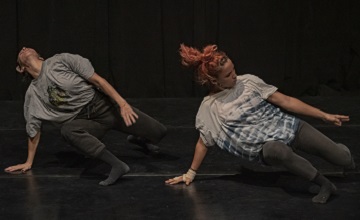 The Concept is an artistic project founded in 2017. It is a unique company for its genre in Cuba, which pulls from different types of style such as hip hop, house, breaking and contemporary ballet, not to forget the hereditary expressive language rooted in the territory. It is composed by six dancers with different backgrounds – Miguel Miguel Álvarez Campos, Jennifer Aput Guerra, Eddy Díaz Suárez, Javier Peláez Faure, Glenda María Sánchez Quintana, Enmanuel Sardiñas Rodríguez – and it enjoys everyone's movement characteristics, combining them to a precise concept, and becoming a space for putting in relation different identities and cultures.
To the Roots is a creation in progress inspired by the figure of some divinities of the Yoruba pantheon and it represents the starting point to show the personality and the energy of the Cuban group. Here, The Concept will mix different movement styles, which will recall the dance and the traditions of their ground.
---
DANIELA DE JESÚS CEPERO DE LEÓN
FRAMES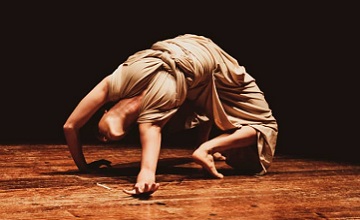 Daniela De Jesús Cepero De León is one of the most interesting and promising young artists of the Cuban scene. She is graduated from the Escuela Nacional de Danza, and now she is studying at the Universidad de las Artes (ISA) in La Habana.
Between 2018 and 2020 she was a member of the Danza Contemporánea de Cuba company, dancing for choreographers such as George Céspedes, Julio César Iglesias, Fleur Darkin, Miguel Altunaga, Lea Anderson, Billy Cowie, Michael Phelippeau, Marso Riviére, Salia Sanou. In 2020 she was selected from OtroLado, the company directed by the choreographer Norge Cedeño Raffo, where she had the possibility to fully express her creative and meaningful potential.
Her solo Frames is born from her idea to approach the human being and from her passage through life as an infinite challenge. "I still float in my action maze and I find that the objective is just the start of every finale".
---
SANDY BENET HERNÁNDEZ | CARLOS A. BECKFORD ALARCÓN | YOILAN MAGDARIAGA HECHAVARRIA
TRANSFERENCIA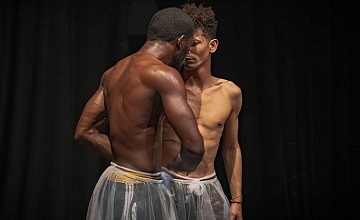 Sandy Benet Hernández, teacher and dancer, has finished his postgraduate studies at the Universidad de las Artes de Cuba (ISA). After working with the theatral group Mascaras de la Luna, he devoted himself to the dance, becoming part of the company Danza Unidos and the NC Dance afterwards. Carlos A. Beckford Alarcón attended the Havana Escuela Nacional de Danza from 2009 to 2012. He is now heading the Artistic Education School Dance Department Ñola Sainz. He is the ALarte choreographer, the Artistic Unity of the Provincial Show Council and the general director of ENSEMBLE, Compañía de Danza Contemporánea.Yoilan Magdariaga Hechavarria started his education in 2018 at the dance school José Maria Heredia di Santiago de Cuba. At the end of his studies, he became part of the company Ballet Folklorico De Oriente, where he currently dances. He is now studying at the Universidad de las Artes (ISA) of Santiago and he directs the Open Hands project.
Tranferencia is a project that offers a dance centered in inclusivity, dealing with problems related to gender, racism and homophobia, which our society is trying to acknowledge, without unfortunately giving legal protection to the victims.
Archetypes and stereotypes related to masculinity and the anthropological sense of body are destroyed in this project.
---
JUNTARTE. La cadena creativa que hace la escena inclusiva is a COSPE project, in partnership with Fondazione Fabbrica Europa, Asociación Hermanos Saíz (AHS), Centro Oscar A. Romero (OAR), Consejo Nacional de las Artes Escénicas (CNAE), Centro Nacional de Investigación de las Artes Escénicas (CNIAE), Ministerio de Cultura (MINCULT), and co-founded by European Union.
The project is created to strengthen the creative and productive capabilities of the cultural operators and of artists that work in Cuba, aiming to support a changing production process of the perception of the productive and economic value and of the social and political role of the artistic sector, where themes of diversity and inclusivity are still little explored and under represented.
Follow JUNTARTE also on facebook.com/EscenaJuntarteCuba
Cuba > Firenze 2032: the video
[cover photo: Melissa Ayala Garriga, detail]