Florence, June 10 – 15, 2019
Chiostro del Vecchio Conventino – Officina Creativa, Museo Marino marini, Chiostro del Convento del Carmine, Cenacolo di Sant'Apollonia, Cinema La Compagnia, Planetario, Cenacolo di San Salvi, Stadio Artemio Franchi, Chiesa dell'Autostrada del Sole
Secret Florence's core mission is to enhance the attractiveness of the city of Florence from June 10 to 15. This is achieved through an innovational and high quality artistic proposal intended for an international audience interested in unveiling the connections between contemporary artistic languages and the extraordinary historical heritage of the city.
Secret Florence is part of the "Programma Speciale Fiere Pitti Immagine 2019" (Special Fair Programme at Pitti Immagine 2019) promoted by the Centro di Firenze per la Moda Italiana (Florence Centre Italian Fashion) and supported by Ministero Sviluppo Economico (Ministry for Economical Development) and Agenzia Ice.
For this edition Fabbrica Europa presents two projects focused on the encounter between Italian and Indian art and creativity.
FRI, JUNE 14 h 19:00
Chiostro del Vecchio Conventino – Officina Creativa
Via Giano della Bella 20 – Florence
A PEACEFUL, PEACEFUL PLACE
concept and choreography: Davide Valrosso
dancers: Nihal Pasha, Arathy AR, Virendra Nishad
co-production: Fabbrica Europa, Attakkalari Centre for Movement Arts, Anghiari Dance Hub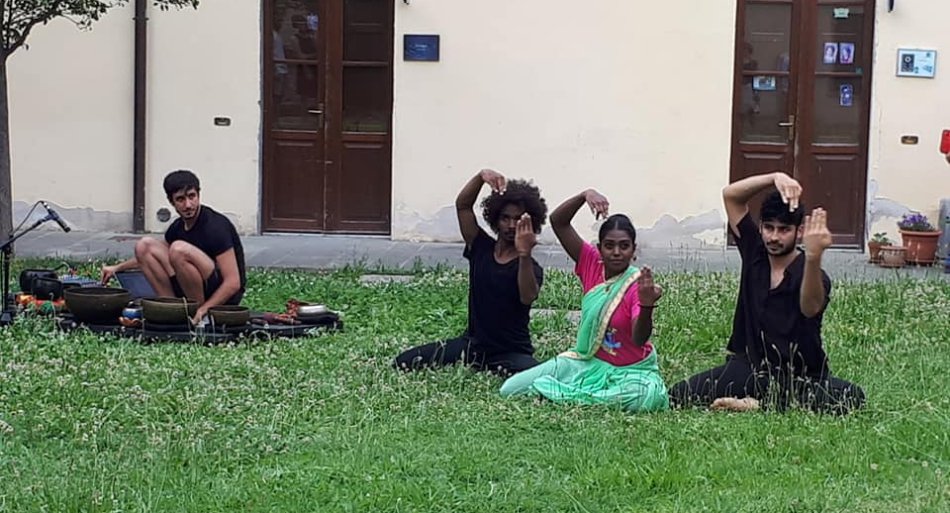 A Peaceful, Peaceful Place originates from the encounter between Davide Valrosso and three dancers from the Attakkalari Centre for Movement Arts in Bangalore thanks to the support of the Crossing the sea project, designed in order to create and consolidate long-term collaborations between Italy and Asian and the Middle East countries.
The work is based on some choreographic actions that combines different languages: Kalari Payat, one of the most ancient fighting arts, elements of yoga (Asana and Pranayama) and gestures drawn from ancient traditional Indian dances.
The result is a compositional architecture with a highly original language, poised between the sacred and the profane, a space for reflection on the theme of the ONE, a principle that points out the unity of all things. A theme dealt with in one of the oldest sacred texts of the Hindu tradition, the Rig Veda, dating back to around the second millennium AC, and then taken up again in the West by Plato Plotinus and finally by Hegel.
Davide Valrosso, after graduating from English National Ballet, studied in numerous contemporary training centers. During five years he has been working permanently with the Compagnia Virgilio Sieni both as a dancer and as a performer and trainer within the Accademia sull'Arte del Gesto (Academy of Art of Gesture), in Florence. He is author of the 'Cosmopolitan Beauty' project, produced by Cango – Centro di produzione sui linguaggi del corpo e della danza ​​and supported by the Teatro Pubblico Pugliese (Anticorpi selection 2016), and in the We_Pop project, selected for NID Platform 2017, produced by the Festival Oriente Occidente. He has been involved in the 'Prove D'autore XL' project, 2017 edition, in which he has created We are not alone for the Triennium of the Balletto di Roma, under the direction of Roberto Casarotto. In 2018 he created Biografia di un corpo, produced by Kilowatt / Capotrave, as part of the European project BeSpectACTive, and Dream, a mid-summer night commissioned by the Balletto di Roma. He has been also selected for the Resid'And project at the National Academy of Rome for which he has created Bloom. In 2018 he became the coordinator of the project "C.I.M.D Incubator for young choreography" supported by the Mibac. In January 2019 he presented Bloom II site-specific created in collaboration with the Cultural Center S. Chiara inside the Mart Museum of Rovereto. His work has been presented in several festivals and events, both in Italy and abroad: Spain, Korea, Romania, Croatia, India.
FRI, JUNE 14 h 21:00
Museo Marino Marini
Piazza San Pancrazio – Florence
PERPETUO
Gianni Maroccolo and Hemabharathy Palani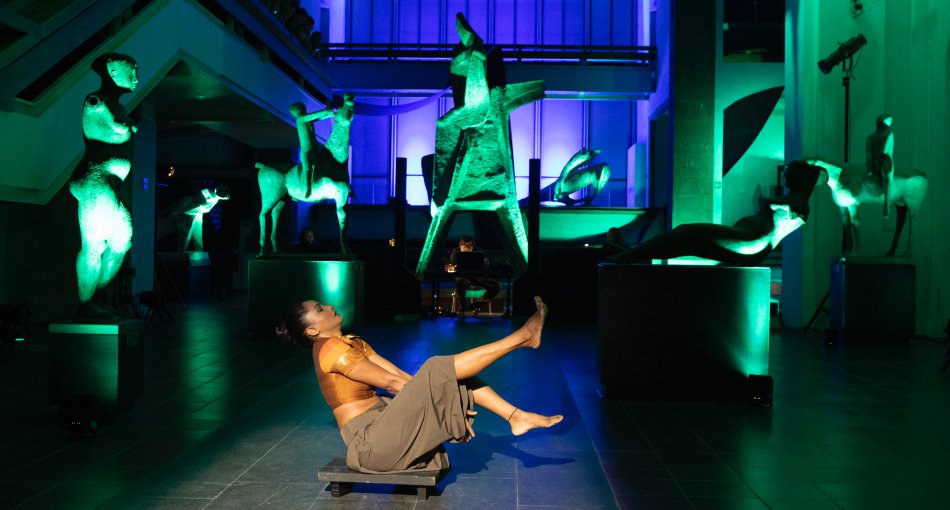 [photo: Marco Caselli Nirmal]
Perpetuo arises from the encounter between the music of Gianni Maroccolo (C.S.I., Litfiba, Deproducers) and the dance of the Indian choreographer and dancer Hemabharathy Palani. A blend of creative flows that combine movement and sound.
An award-winning choreographer and dancer, Hemabharathy Palani is one of the most promising talents in contemporary Indian dance.
Known for her fluidity and musicality, Hema is a dynamic choreographer and performer. On stage, her focus is hypnotic, drawing her audience into the story she weaves with her gracefully articulated movements.
Hemabharathy Palani's work is deeply personal and evocative. Her movements are richly textured with elements from her further training in ballet, contemporary dance, Kalaripayattu, yoga and capoeira at the Attakkalari Centre for Movement Arts.
​Hema has travelled to some of the biggest contemporary dance venues including the Barbican Centre (London), Mercat de les Flors (Barcelona) and Critical Path (Sydney). She has also completed residencies under mentors like Jonathan Burrows, during her Sadler's Wells Summer University programme in 2011.
​Currently, she is the Rehearsal Director at the Attakkalari Centre for Movement Arts, Bengaluru, where she also works as a choreographer, teacher and performing artist.
Gianni Maroccolo, born in 1960, spent his childhood in Sardinia and moved to Florence in the early 1980s. He studied double bass, electronic music and phonology at the Conservatory and founded Litfiba with Piero Pelù, Ghigo Renzulli, Antonio Aiazzi and Ringo De Palma. In 1990 he produced "Epica, Etica, Etnica, Pathos", the latest CCCP album. In 1992, with Giovanni Lindo Ferretti, Massimo Zamboni, Giorgio Canali, Francesco Magnelli, he founded the Consorzio Suonatori Indipendenti (C.S.I.). In 2001, the C.S.I. evolve in the PGR. In 2004, he published the solo album "A.C.A.U. – La nostra meraviglia" featuring Battiato, Pelù, Raiz, Consoli, Donà, Jovanotti, Agnelli and others. He joined Marlene Kuntz for two albums and a tour and participated in several parallel projects: sonorizations (in particular with the Masbedo), the experimental quintet Beautiful (with Howie B) and an independent art label (Al-kemi Lab). With Claudio Rocchi he composed and produced "vdb23″. The album generates the tour "Nulla è andato perso", documented by the homonymous triple vinyl (best 2017 record for Classic Rock). He is part of the Deproducers, along with Vittorio Cosma, Max Casacci and Riccardo Sinigallia. With them he creates soundtracks for scientific conferences and soundtracks. His most recent project is "Alone", a "perpetual" album divided into chapters published every six months.
The whole project on www.secretflorence.it